Founder's Day of Visakha Vidyalaya falls on March 25
By Dr. Ganga de Silva

(Extracted from Sunday Times, 23 March 2014)
Today, the slogan "Educate the girl child" is popular the world over. It is important to educate the girl child, to ensure educating generations to follow, thereby educating all nations and uplifting the whole world. Almost a hundred years ago, Mrs. Jeremias Dias, a lady from Panadura who had studied only up to the fifth standard at a small Sinhala medium village school, but had inherited great wealth, realised the importance of educating girls. When one of her beloved sons died, she founded a school for girls, Visakha Vidyalaya, in his memory. She envisaged a world of educated women who would cease to be the second class citizens they had been for generations.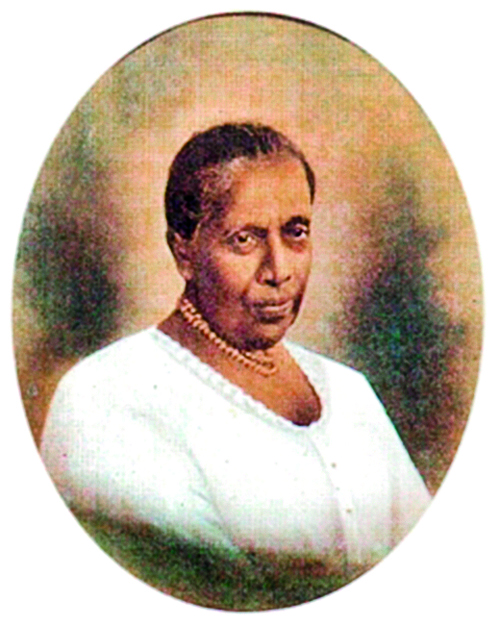 Mrs. Jeremias Dias founded "the Buddhist Girls College" on January 16, 1917 in a house called "The Firs" at Turret Road, (today Dharmapala Mawatha) in Kollupitiya. The school's first Principal was Dr. B.T. Banning (M.A., PhD). Twenty girls were enrolled that first day. As the numbers increased, Mrs. Jeremias Dias decided to move the school to its present premises at Vajira Road, Bambalapitiya. She purchased three acres of land on which were erected the two original school buildings consisting of class rooms and a hostel. The school was renamed "Visakha Vidyalaya" on November 21, 1927 by Lady Stanley, the wife of the then Governor of Ceylon.
Early years
Mrs. Jeremias Dias was born on July 11, 1858 to the Rodrigo family of Panadura. The Rodrigo family had considerable social standing in Panadura due to their immense wealth accumulated through the arrack trade. Her father was Pattinihennadige Warnadeepthia Kurukulasuriya Salaman Rodrigo and her mother was Mahawaduge Madalena Perera. She was the third in a family of seven girls and two boys and was given the name "Pattinihennadige Warnadeepthia Kurukulasuriya Selestina Rodrigo".
In 1873, aged 15, Selestina Rodrigo married Jeremias Dias, the well known philanthropist of Panadura. Jeremias Dias, who was Selestina's first cousin, also came from a wealthy family involved in arrack trade. While in his teens he started many successful businesses and was an ardent supporter of the Buddhist Revival. A philanthropist who supported Buddhist causes, he was instrumental in organising the world famous "Panadura Debate". Selestina and Jeremias had eight children; Harry, Lilian, Arthur Vincent, Edmund Wilson, Adeline, Ellen, Rosalind and Charles. Some of them were to become prominent figures in society. Selestina took good care of friends and relatives, while managing the magnificient family home "Edmund House" with an army of domestic staff.
Businesswoman
Jeremias Dias died in 1902 leaving Selestina his entire business empire. He had invested in the arrack trade, plantation agriculture, plumbago mining, urban property, etc and Selestina was left with colossal wealth and the Herculean task of managing his diversified business interests.
Selestina who had played a mere domestic role as mother and housewife took on the businesses with the help of her eldest son, Harry. When a crisis occurred in the business her third son (born in 1888) Edmund Wilson consented to assist her. Edmund Wilson worked untiringly without taking a break to put the things back in order within a short period of time.
Manel Tampoe in her book "The Story of Selestina Rodrigo" says as a gift to Edmund Wilson for his efforts Mrs. Jeremias Dias sent him to Bandarawela for a holiday. Sadly he contracted tuberculosis and died in 1908 causing much grief to both his mother and sister Ellen who cared for him as a patient.
But none of these family tragedies deterred Mrs. Jeremias Dias from building up her husband's business empire with the help of her second son Arthur Vincent. Her contribution to Buddhist education for girls was recognised by the Government when in 1929, she was honoured by the Order of Membership of the British Empire.
Vision
In an era when many did not think about girls' education, the vision of Mrs. Jeremias Dias was remarkable. While engaging in many social services to improve the lives of the less fortunate and to uplift Buddhism, she felt the need for a Buddhist girls' school, which gave Buddhist girls a modern English medium education and nurtured social accomplishments associated with elite status while still preserving their Sinhala Buddhist identity.
In starting a school in memory of her beloved son, Edmund Wilson instead of founding a boys' school she decided to start a girls' school. She did not start it in her native town Panadura but instead in Colombo. A hostel was provided so that a Buddhist girl from any corner of the country could benefit from the school. Her vision was for the entire nation.
Mrs. Kumari Abeyagunawardene (nee Wickramasuriya) a great granddaughter of Mrs. Jeremias Dias whom the writer had the privilege of interviewing for this article says Mrs. Jeremias Dias's vision was extraordinary. She not only founded the school but ensured its sustainability. She had the foresight to gift an estate "Good Hope", the income from which was given towards the school's expenses.
Visakha Vidyalaya
From humble beginnings Visakha Vidyalaya has become the premier Buddhist girls' school in the country. The academic excellence of the school has continued unchallenged for the past several decades. Almost every year Visakha Vidyalaya produces students among the top ten in O/L and A/L results if not the first or the second. Even the success rate at examinations is amazing; more than 99% at O/L! Visakhians also produce academic excellence while engaging in sports and co curricular activities. The school has 24 sports and 26 clubs and societies. Many Visakhians represent national teams in netball, swimming, water polo, badminton, etc and are involved in many activities like singing, dancing and drama often leading the scene in those fields also.
Best Tribute
This noble lady from Panadura who did yeoman service to the nation by founding Visakha Vidyalaya breathed her last on March 26, 1933. During a function organised to unveil the photograph of Mrs. Jeremias Dias in 1933 Sir Graeme Tyrrell, the acting Governor of Ceylon, said the true memorial to Mrs. Jeremias Dias would be the work that Visakha Vidyalaya would perform during the present and succeeding generations. Without any doubt Visakha Vidyalaya is paying the best tribute to her founder, Mrs. Jeremias Dias, as Visakhians are found leading in each and every field while preserving their identity as Sinhala Buddhist women.
Pirith and alms giving
In commemorating its founder, Mrs. Jeremias Dias, Visakha Vidyalaya annually organises Pirith on March 25 followed by an alms giving on March 26 to the priests of Vajiraramaya.