From The Sunday Times 29 September 2013
Visakha Vidyalaya Colombo became the girls overall squash champions at the annual all Island Inter School Squash Championships, held at the S. Thomas' College Sport Complex on September 17 and 18.
This is the second time that Visakha Vidyalaya was able to win this title. It was Sirimavo Bandaranayaka Vidyalaya Colombo that held the championship for the last three years. The school succeeded this year largely due to the guidance of Nilanthi Priyangika and the outstanding play of three talented sisters, Naduni, Saduni and Kasuni Gunawardane.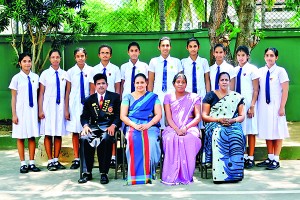 Kasuni Gunawardane, the younger of the three, played extremely well and became the Under 15 champion by defeating Buthmi Galagamege of Sirimavo Bandaranayaka Vidyalaya. Displaying some excellent court craft, Saduni Gunawardane won the girls Under 17 championship by defeating Wasundara Suwaris of Sirimavo Bandaranayaka Vidyalaya. Pabashi Rajapaksa was placed third in the same age category. Naduni Gunawardane became the runner-up in the girls' Under 19 finals losing to Mihiliya Methsarani of Sirimavo Bandaranayake Vidyalaya.
The girls' team final was played between the Visakha Vidyalaya 'A' team and the Sirimavo Bandaranayaka Vidyalaya 'A' team. In the team event, the first two matches were won by Wasundara Suwaris and Mihiliya Methsarani of Sirimavo Bandaranayaka Vidyalaya defeating Pabashi and Naduni respectively. The squash captain of Visakha Vidyalaya, Rasara Jayasooriya, defeated Tiyara Salgadu in the third match. A major upset occurred in the fourth match when Saduni Gunawardane defeated Ravina Sumathipala. It gave hope to Visakha Vidyalaya to win the overall championship. The youngest of the team, Kasuni Gunawardane won the deciding match by beating Lasni Kulathunga and won the Team Championship as well as the Overall championship.
In 'B' team matches, the Visakha Vidyalaya 'B' team was placed third after losing the semi final to the Musaeus College 'B' team.
It was a memorable tournament for all Visakhian squash players.